13 Fashion Insiders on Their Spring Clothing Essentials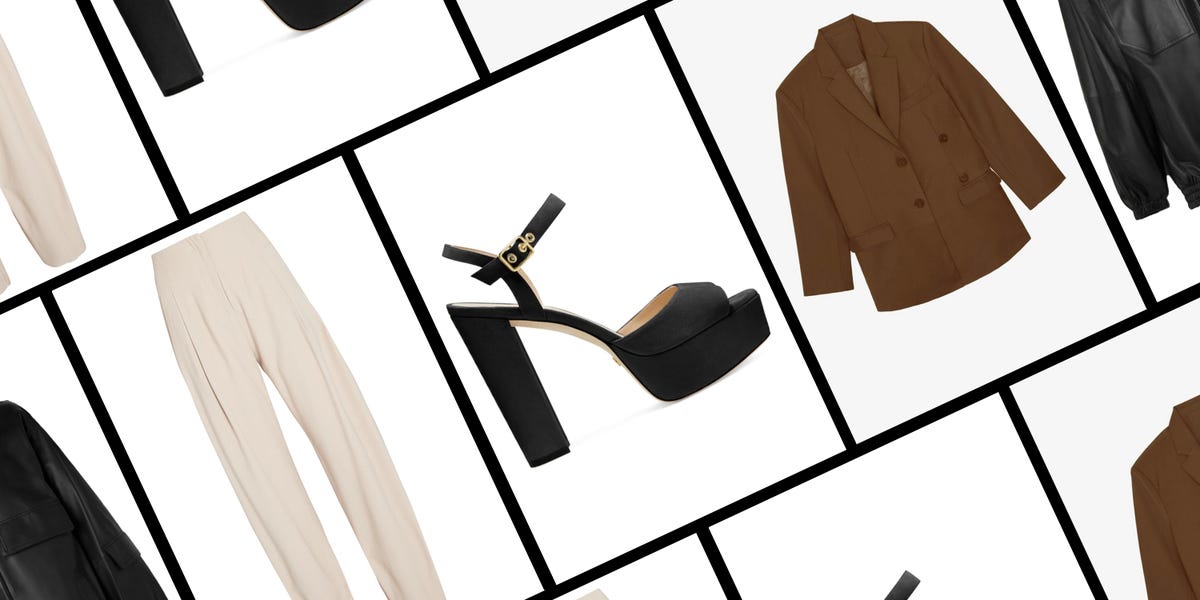 All the clichés about spring fashion have a hint of truth. Whether you lean into capsule wardrobing or test-drive every major runway trend, there's something about spring that beckons us to reconsider our style (and reorganize our space). We say, why not lean into the energy of renewal? And, do it with pieces that will last.
To refresh your closet for the new season, we asked 13 stylists, designers, and fashion creators to pick the spring clothing essentials they're wearing most this year. The upcoming expert-approved pieces mix the season's best emerging trends (like platform heels and pops of Kelly green) with tried-and-true classics (like lightweight trench coats and relaxed suiting). Let one of their self-identified staples become yours, ahead.
Advertisement – Continue Reading Below
The Oversized Shirt
Cruz Shirt
"Everyone needs a cute oversized shirt like this for transitional weather. I can see myself wearing it on repeat through seasons. Layer over a t-shirt or underneath a light jacket, pair with the matching shorts or any favorite jeans for an effortlessly chic spring look." — Vivid Wu, stylist and creative consultant
The Elevated Crop Top
Off-White Crinkled Silk Crop Top
"For spring, I like the idea of a more formal cropped style top. Not so much a bra style, but something either knit or with texture. I like to wear a cropped top with an oversized button up shirt and trouser, or layered underneath another loose tank or top." — Brie Welch, stylist
The Slinky Slip Dress
Mini Bias Slip Dress
"I love the quality and fabrication of Baacal's sustainably made pieces, and I can't resist slinky slip dresses. I think yellow is one of my personal favorite colors of the upcoming season, and I love this shade in this mini slip dress. I love that I can wear it now with boots or layered underneath chunky, oversized sweaters while we transition into spring weather—and will definitely be wearing it solo with strappy heels come summer! Slip dresses are so versatile and I layer them year-round." — Nicolette Mason, brand strategist and creative consultant
The Spring Suiting
Fluid Suiting Liam Blazer
Tibi Strapless Bandeau $198 at Shopbop
Tibi Elfie Trouser $445 at Tibi
Tibi Julius Sandal $595 at Tibi
"I live for this look because it's the notion of mixing the lightness of the poplin with something quite tailored and clean; the jeweled sandals bring up the whole outfit." — Amy Smilovic, Founder and Creative Director of Tibi
The Light Coat
Opera Trench
"Kallmeyer designs for the New York city woman in me. From the moment I slipped this trench on I was instantly transformed into the most refined version of myself. It's lightweight, chic, and great as a layering piece for spring. The RTW collection has a range of great silhouettes that work on their own but also pair well with any trouser's length and button-down or sweater. I finish the look with a block heel or a sandal. It takes me from meetings, to shoots, to dinner!" — Beverly Nguyen, stylist
The Bold Platform
Grita Suede Clogs
"Platforms, platforms and more platforms. The chunky shoe trend continues and I am embracing it. For spring, I'm planning to adopt a more chic platform sneaker like Stella McCartney's and perhaps, if I'm bold enough, I might give the clog trend another go. This one from Veronica Beard feels elevated and I can get behind that. I would wear either with a full straight leg trouser pant paired with a slightly full blouse with strong shoulders—tucked in, so there's definition at the waist." — Candace Read, stylist
The Modern Leather Jacket
Oversized Leather Bomber Jacket
"I am always looking for the next new leather jacket and I think that the oversized leather bomber is the answer to my prayers. I love that it adds a relaxed but styled element to any look—whether it's workout clothes or a mini-dress, this bomber gives an edge but in a classic way." — Allison Bornstein, stylist
The Classic Loafer
Whitney Bax Loafer Flats
The Relaxed Trouser
Pleated High-Rise Trousers
"A slouchy trouser is one of the most versatile items in my closet. I love styling it with a lace up heel wrapped around the pant leg for a harem pant effect. A slouchy trouser is also the perfect proportion for this season's sexy cut out tops and crop tops. If I'm going small or more bare on the top, I always balance it with volume on the bottom to keep my look sophisticated." — Divya Mathur, chief merchant at Intermix
The Athletic Accessory
RH Golf Trucker Hat
Frankie Shop Zenya Blazer $215 at Frankie Shop
Recreational Habits Martha Shirt $130 at Recreational Habits
Vintage Gold Pearl Earrings $125 at 1stDibs
"I have always associated trucker hats with the Von Dutch era, but the new ones from the Recreational Habits Golf Capsule are so elevated and add just the right amount of cool. I love wearing the trucker hat with my hair pulled into a low bun and a big gold vintage earring. I finish the look off with a blazer or a tailored shirt and trouser. It's such an unexpected combination, like an LA business woman or like a 90's post game athlete. It just feels cool!" — Jackie Skye Muller, co-founder of Recreational Habits
The Matching Set
The Paz Top
Paz skirt $100 at Hill House Home
"I love a matching set, and the Paz is just so easy to wear. We took the universally flattered smocking and ruffled sleeves of our Ellie Nap Dress to make the Paz top, and added an elastic waistband and tiered ruffles to the skirt. It's super easy to mix and match the top and skirt with other items, too. I love the skirt with a one-piece bathing suit throughout the summer. The Paz top looks great with jeans for in-between weather when it's not quite warm enough for the set." — Nell Diamond, founder of Hill House Home
The Fringe Flourish
Fringed Crepe Vest
Marni mules $790 at Marni
"For this spring, my styling essentials are vests and mules. Everything, everything is bright and colorful! I love vests for layering, and I'm all about comfort while making a statement. The word for the year is ease. I've been coveting this Dries van Noten fringe vest and the Marni mules seen everywhere!" — Kelly Augustine, stylist
The Monochrome Moment
Brenna Dress
"I'm all about a monochromatic moment, so pairing our Kimmie Trousers and Brenna Shirt Dress together has to be my favorite look right now. It's bold, it's easy and it's just a really chic outfit. Who doesn't love a good set?" — Lauren Nouchi, co-founder and creative director of Apparis
The Spring Jean
Carly Jeans
"While pure white denim will always be a vibe, we are seeing lots of Ecru denim this spring and, I must admit, I'm here for it. Be it wide and cropped or more straight and tapered, grabbing this new jean color is essential for spring. I am loving this one from Paige. It feels casual, yet elevated. I'd pair it with an easy tee, platform sneaker, and a long and lean spring-weight overcoat for a day on the go." — Candace Read, stylist
The Pop of Green
x RHW Strappy Sandals
"Bottega green is the color of the season, and the easiest way to incorporate this into your wardrobe (and get some mileage out of it) is in a statement shoe. I'm pairing a green heel with a monochromatic look, or for a bold color blocking moment hot pink and green is one of my favorite combinations. All white outfits are also a spring essential and a bright green shoe gives this classic a fashion update." — Divya Mathur, chief merchant at Intermix
The Menswear Coat
Single-Breasted Car Coat
"It gives you that on-trend oversized feel, and instantly elevates everything. Plus, you can layer over a hoodie, blazer, or cardigan for those stubborn cold spring days. I drape mine over my Ouisa trousers, grey tee, and Stan Smiths for spring weekend errands." — Bryn Taylor, stylist and founder of Ouisa
The Sky-High Sandal
Ryder 95 Platform Sandal
"I'm so thrilled platforms are having a moment, again! I love wearing heels, and platforms always feel more comfortable and supportive. This pair of Stuart Weitzman's feels super versatile, can be dressed up and down, and of course worn with bare legs or tights or knee socks. Stuart Weitzman is one of my go-to shoe brands since they often carry extended sizes and a variety of widths. This pair comes in lots of great colors—and I love that I've seen similar styles across all price points." — Nicolette Mason, brand strategist and creative consultant
The Mixed Material Skirt
Crepe Gauze Half Layered Full Skirt
"[This skirt] is the ultimate versatile item, and the overlay is removable. Pairing it with a Liam blazer just makes it so effortless." — Amy Smilovic, Founder and Creative Director of Tibi
The Western Mule
Madison Suede Mules
"These mules are perfect for spring. The rich brown suede and the subtle western detail make them perfect to throw on with jeans this spring, a maxi dress in the summer, and with leather pants and a black turtleneck for an elegant fall look. They are versatile and timeless but still feel modern." — Allison Bornstein, stylist
The Fisherman Sandal
Ancora Sandal
"It's the season of mixing and matching with bold colors! These orange sandals get me excited for spring. I'd wear them with socks until my feet are ready to show with the cutest pedi as the weather gets warmer." — Vivid Wu, stylist and creative consultant
The Sun Hat
Kaleidescope Sun Hat
"I'm crazy about sun protection (my nickname at camp was Casper), so I have done my fair share of hat research. Our Sun Hat has UPF protection and is made from a flexible printed cotton canvas. It packs flat in your luggage without wrinkling, which is a game-changer for vacation." — Nell Diamond, founder of Hill House Home
This content is created and maintained by a third party, and imported onto this page to help users provide their email addresses. You may be able to find more information about this and similar content at piano.io
Advertisement – Continue Reading Below