20 Cool Jewelry Brands for Women Reimagining Luxury in 2023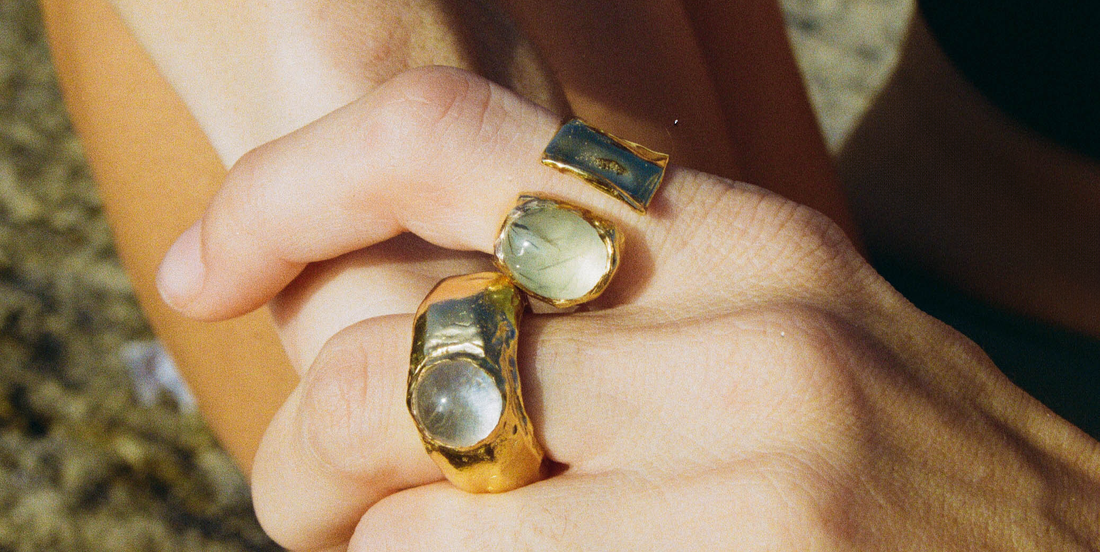 It's been said before and I'll repeat it again: Personal style is in, and it isn't a trend. Real, authentic personal style cannot be put into a cohesive box. Three adjectives, a Meyers-Briggs result, or a social media algorithm fail to cover every mood, lifestyle shift, and identity within a person. We're human beings, after all, and style-in-a-box isn't cutting it for those willing to maintain a sense of curiosity and exploration. Much like our day-to-day wardrobes—you know, the IRL ones that aren't perfected or consistently the same—cool jewelry brands are providing doses of humor, expression, and uniqueness for every closet possible.
Suot Studio founder Marta Tous finds that consumers are searching for quality and authenticity in a saturated market. "Sculptural jewelry has become a means to express ourselves and stand out in our daily look, adding personality. We've overcome the fear that jewelry is reserved for special occasions, and now we seek bolder and more contemporary pieces, even with touches of humor," she says. Suot's modular pieces aren't just something to toss on and wear, but a way to "participate in the creation of a unique and personal style."
Carolina de Barros brings a one-of-a-kind ethos to her namesake jewelry brand. "I like the idea of chance and pieces taking on their own character; so I apply different techniques that allow forms and textures to emerge heuristically," she explains. This pivot toward building a unique, but timeless jewelry assortment can be linked back to wearers' growing desire to connect while also standing out. "I believe there is a return to the handmade. People value tactility—it's the feeling of knowing something has been passed between human hands."
What does true personal style mean as far as jewelry goes? Well, it can mean whatever you want it to. For me, a few words come to mind: amazement, emotion, irregularity. With that in mind, shop 20 cool jewelry brands experimenting with stones, texture, proportion, shape, and—most importantly—individuality ahead.
---
Marta Tous designs jewelry for making personal connections. "We want you to be able to evolve and transform your jewelry on a daily basis, creating the look you desire for each moment. From small earrings in the morning to more striking ones in the evening, our proposition allows you to adapt your jewelry to your mood and daily style," she says. "Instead of static pieces, we offer versatility and personal expression, redefining how we see and use jewelry."
You've probably spotted all the cool girls wearing the Agmes x Simone Bodmer-Turner Bubble Hoops, and for good reason. All Agmes pieces are distinctive and enduring, combining sculptural forms and precious materials, and are handmade to order in the heart of New York City. You'll find pearl earrings, heart pendants, chunky cuffs, and unique studs among the brand's offerings.
Mes Amies was a late-night Instagram discovery, after a few hours spent searching for brands that may not be found at your typical retailers. From the moment I laid eyes on this jewelry, I was overcome with the desire to travel. The brand's tagline is "For those who dream big," and you will—with chunky golden chains, oversize dome earrings, and methacrylate earrings in funky shapes.
Every piece at La Serenidad has its own story to tell—and none of them are ordinary. Instead, La Serenidad seeks to push you out of your comfort zone and guide you through self-discovery with jewelry that works for every phase of life and every shift that comes with it. High-quality, current, and sculptural pieces join forces here.
For those who wish to keep things true to New York, look no further than Brooklyn-born, Tokyo-based Marland Backus—whose jewelry brand is for those with a bit of edge. A model and designer, Backus creates pieces that evoke an enthusiasm for the unhindered pleasure of our younger years. The brand is best known for heart-shaped details, graphic charms, and snake chains.
London-based brand Completedworks puts sustainability at the heart of everything it does. The brand uses recycled materials that are assembled to last for decades, creating designs that will remain relevant and chic throughout changing times and trends. Gold pieces are all made from either recycled or fair trade gold, while a large portion of the silver pieces are made from recycled or reclaimed silver.
With a mission to redefine and revitalize modern luxury, Bernard James's fine jewelry prioritizes unparalleled craftsmanship while embracing a personal approach through storytelling, community, and dialogue. With James, you'll find pieces that represent nature, strength, and family.
Carolina de Barros is inspired by art, and her sensibility—which emphasizes character and high quality—sets her brand apart. "My vision is to create beautiful and timeless pieces that can last for generations," she says. "There's always a consideration for materials at the forefront, too. Sustainability is at the core of our brand's ethos, so we always prioritize recycled, ethically sourced materials and support local craftsmanship."
Rocío Gallardo and Jorge Ros of Simuero are focused on new forms—with each stunning piece crafted entirely by hand. The brand does not do seasonal collections, and all of its pieces are made to order, which means less waste all around. You'll find raw golden rings, recycled materials, and designs brimming with texture.
You may know "Cities in Dust" as a song by Siouxsie and the Banshees, but it's also a jewelry line designed by Meghan Lorenz. Based in Chicago, the brand evokes a sense of nostalgia and playfulness that has fans coming back for engagement rings, gifts, custom pieces, and fine options.
Responsibly made in Europe, Shannon Bond is a jewelry brand celebrating art and nature. And it's clear that both subjects are a point of inspiration: Pieces range from porcelain-shaped earrings to spiraled options in a hammered texture, as well as essentials like oversize hoops.
Featuring pieces designed to feel architectural yet timeless, New York–based jewelry brand Hernán Herdez was founded by Melissa Hernández. Working with local silversmiths, Herdez explores conceptual designs with handcrafted earrings, rings, and bracelets.
For the bold, the confident, and the alternative-leaning, Martine Ali creates iconic chain-based jewelry with a nod to '90s hip-hop and grunge sensibilities. The Brooklyn-based designer makes pieces that are as unique as their wearers—with deep roots in city knowledge, culture, and community at the forefront.
Admiral Row prides itself on producing high-quality, handmade jewelry using superb materials. From designs using semiprecious stones like rose quartz and freshwater pearls to enduring chains, each piece is crafted with consideration and added detail.
With her uncommon, modern jewelry, Tokyo-based Emily Stefani Lee truly fills a niche in the market. Her M.O.? Producing locally and using materials like sterling silver and 14k gold plating that permit her to play with more eloquent designs.
First launched as an expansion of Lorette Colé Duprat's work as head of jewelry design for Mugler, this line takes inspiration from hardware stores, architecture, and costume. The accessories you'll find—like silver chokers, coiled bracelets, and bubble-shaped body mod-leaning rings—are meant to be mixed matched, and explored.
Jenny Bird is a Canadian jewelry brand identified for its character and modern structures, which effortlessly integrate minimalism and intrigue. There are no bland pieces here! Take it from a Jenny Bird fan: From dome-shaped rings to ear cuff sets and heavy anklets, these designs will always make people ask, "Where did you get that?"
After graduating from Central Saint Martins in 2013, Bea Bongiasca established her namesake brand. The Milan-based designer's vivid enamel and stone pieces are intriguing, stackable, and full of character, ideal for those looking for a pop.
Paris-based Marco Panconesi launched his eponymous line after working for Givenchy, Fendi, and Balenciaga. Since 2019, his contemporary assemblages have included a mixture of swirling hoops, bright cuffs, beaded necklaces, and hybrid earrings—all of which will easily turn heads.
CFDA-nominated designer Jameel Mohammed founded Khiry with the mission to celebrate Black life and culture. Sculptural demi-fine pieces are meant to empower wearers to feel confident and uniquely themselves, with options ranging from tiger's-eye rings to jug-shaped rings.

Cortne Bonilla is freelance writer who occasionally dabbles in party reporting. When she's not writing, you can find her vintage shopping, sipping iced lattes, reading on the train, and indulging in Pilates.