9 Spring 2024 Fashion Trends That Ruled Copenhagen Fashion Week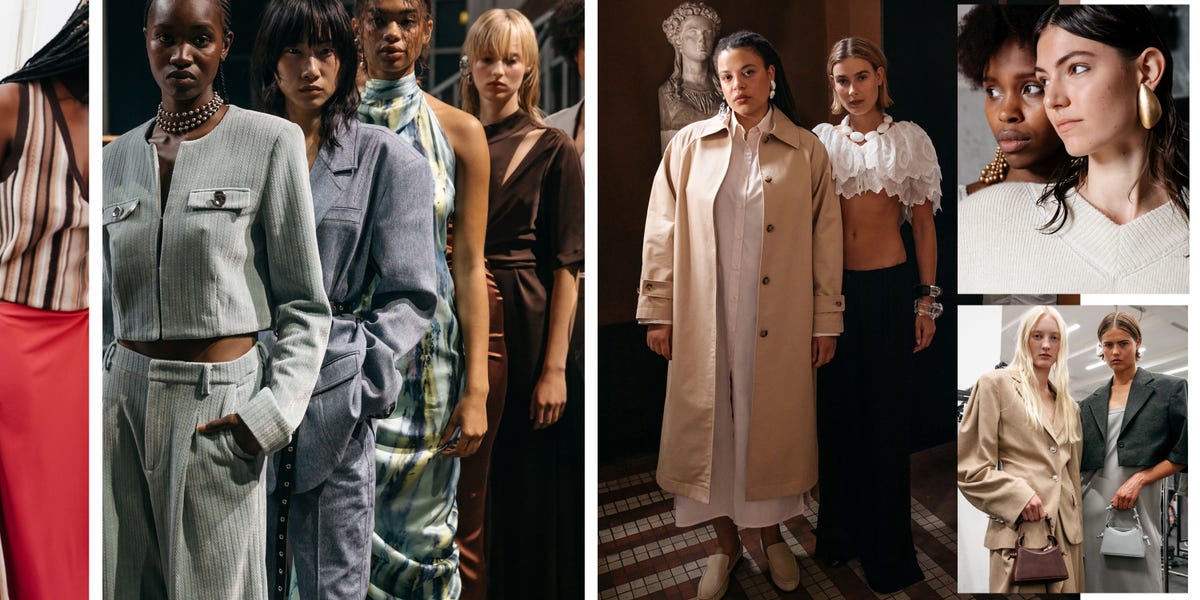 There's a lot happening in the world that makes thinking about the future a stomach-churning exercise. Yet midway through Copenhagen Fashion Week last week, taking in the first batch of spring 2024 trends, I felt unexpectedly excited about what the next year could hold—at least for my wardrobe.
Copenhagen Fashion Week is now a firm part of the global fashion conversation. Fashion people are thinking and talking about great Scandi style more than ever, and when they envision what that looks like, they think of brands like Ganni, Saks Potts, and Stine Goya. And Copenhagen's CPHFW NewTalent program is supporting emerging talent, such as designers like Nicklas Skovgaard, whose show—starring a single model trying on clothes for the crowd—was all anyone could talk about for days. But it's not just about what's seen on the runway; Copenhagen is actually the only market in the world to establish minimum sustainability requirements for designers to even participate.
All of these elements have resulted in a fashion week where clothing feels like an occasion for joy and change. "Where Copenhagen shows its best self is through its community [and] its continued focus on sustainability," Browns buying director Ida Petersson told me. "They really are leading this revolution on an international scale now[.]" On a show-by-show basis, some moments were so compelling, I spent my eight-hour flight home rewatching them on my phone.
Copenhagen native Stine Goya held her brand's show, "Homecoming," on her street, with neighbors watching the runway from their second-story windows. Ganni casually dropped its latest collaboration with New Balance on the runway, which was lined with talking, AI-enhanced trees who struck up a conversation with model Paloma Elsesser. These over-the-top moments were balanced by fresh visions of Scandi minimalism at Skall Studio and Mark Kenly Domino Tan. The latter struck Julia Ferrar, senior buyer at MatchesFashion, as simply beautiful, "with crisp monochrome silhouettes, freshwater pearl embroideries, and soft peplums against the garden backdrop."
A little inclement weather couldn't keep Saks Potts from packing a hypothetical suitcase for a Mediterranean vacation, even as showgoers like myself lined its outdoor front row in oversize coats and fall boots. "They had the perfect sunshine-yellow Thomas Mason cotton sets and beach bags, touches of cobalt sequins to style back to the crisp poplin shirting, and the perfect effortless slipdress in super-saturated colors," Ferrar said. The show sent an unintentional message: Even when there's every reason to feel pessimistic, there's a chance to seek out sunshine.
The season had a buoyancy I hope will continue when New York Fashion Week returns in a few weeks. For now, here are the nine spring 2024 fashion trends from Copenhagen Fashion Week that made the biggest impression.
---
Copenhagen Spring 2024 Trend: Scandi Prep Shirting
You can go anywhere in the world and find designers pondering the button-down shirt: a family-owned atelier in Mexico City, an upstart French boutique in Paris, the J.Crew headquarters in downtown New York. Copenhagen Fashion Week was the latest stop on the prep revival's world tour, with a strong showing of striped button-downs throughout the week.
Wearing a selection of my own striped button-downs in the front row, I saw designers half-tucking their versions into generously cut suit sets or flinging them simply over a swimsuit. It was a demonstration of how well the Danes understand how women really dress—they just get chic practicality. With each shirt that appeared on the runway, I imagined creative directors reminding me that what I already own is worthy of re-wearing and restyling. A directional take I loved appeared at Wood Wood, where a model was dressed in two oversize shirts at once, one over the shoulders and the other tied around the waist—plus matching pants.
Copenhagen Spring 2024 Trend: Spangled Second Skin
MatchesFashion senior buyer Ferrar was all about the "effortless and uplifting" mood at Ganni, where she noted "delicate sequins were styled back to denim [and] their silver sequin gown was a highlight." It wasn't the only runway that made an entire room shimmer.
For spring 2024, designers showed that glitter also has range, and I liked seeing sparkles break free of one -core aesthetic. There were small sequin-coated halter dresses with a striped underlay at Saks Potts, latticework pants at Kernemilk, and skirts of all lengths—mini at Rotate, midi at Baum und Pferdgarten, and maxi at Rotate. All the looks were elevated, but they veered from preppy with slouchy cardigans to rock 'n' roll with hot pants and leather jackets.
Copenhagen Spring 2024 Trends: The Workwear Remix

Over the past few seasons, suit sets have taken over every fashion week. Fashion is but one of many industries still adjusting to a post-Covid world, and a number of collections have explored how we want to present ourselves IRL to our coworkers.
Designers at Copenhagen Fashion Week have definitely been designing for office life, with a handful of runways showing blazers and smart skirts or trousers. But designers presented officewear on their terms, such as with an unconventional peplum skirt and cropped blazer jacket over a shirt dress at Mark Kenly Domino Tan, or a khaki suit broken up by a knitted skirt at Lovechild 1979. Embellishments dressed up stark black and slightly revealing suiting at Ganni and Stine Goya. I couldn't help but grin when I saw Remain's twist on the spring work dress: a strapless number that looked like a stretched-out pleated skirt, paired simply with slouchy leather boots. These were looks that meant business without losing their sense of fun.
Copenhagen Spring 2024 Trend: The Big Shorts

If Copenhagen's designers have their way, summer won't be synonymous with tiny cutoff shorts for much longer. I noticed a consensus in favor of longer, looser shorts, grazing models' kneecaps at Marimekko, Baum und Pferdgarten, and Paolina Russo. It could be a practical push—Danish summers involve a lot of biking and chillier temperatures. But the silhouette also invites juxtaposing proportions, as evidenced by designers' tendency to pair their longer shorts with a strapless top or a cropped jacket.
Copenhagen Spring 2024 Trend: Skirts Over Pants
When I stopped by Saks Potts' showroom for a second look at its spring 2024 collection, one member of the team was dressed in a reworking of two runway pieces: a sage-green satin dress pulled over a pair of white pants. The wearer told me the dresses-over-pants look is common in Denmark at the height of summer. By this time next year, it might just have gone global.
"Another trend that stood out was layering skirts over wide trousers, both matching and in contrast," Petersson of Browns told me. I had to agree: Designers throughout the week seemed adamant that skirts and dresses over fluid-leg trousers were an absolutely necessary styling trick. TG Botanical, the Garment, Saks Potts, and others presented them so convincingly that I planned to try the look myself at home. By the end of the week, I'd forgotten that a dress over pants could be anything but elevated.
Copenhagen Spring 2024 Trend: Abstract Printed Denim
After covering Copenhagen Fashion Week for a few seasons, I've come to expect a strong showing of jeans and denim-on-denim outfits. (The Canadian tuxedo is just as prevalent in Denmark.) The big question is how designers will make the democratic fabric feel new.
This season, the answer was illustration. At Gestuz, two denim looks came coated in thin, wavy brushstrokes—like a painted apparition of upscale utility on the runway. Stine Goya lightly stamped its curved logo all over a denim flightsuit and a jacket-plus-miniskirt combo, creating its own undulating look. The trend continued later in the week at Paolina Russo, with jackets and extra-long shorts faded, painted, and printed with abstract designs. Ganni closed the week with a top and jeans splashed in a watercolor blend of indigo, pale blue, and white.
Copenhagen Spring 2024 Trend: Keeping It Transparent
My approach to wearing sheer clothes usually involves an extra layer underneath, both for modesty and for contrast. Copenhagen's designers don't seem to agree with my approach. According to them, spring 2024 is the season to let it all out—literally.
At emerging knitwear designer A. Roege Hove's show, the first look was a completely sheer top studded with small beads and a semi-sheer pencil skirt. Then there was raucous partywear at Rotate and understated yet completely sheer separates at Kernemilk. Variations in color and detailing are where the trend got exciting: In one of my favorite looks, OpéraSport showed a lacelike sheer dress embroidered with flowers over a pair of oversize black slacks—a trend within a trend.
Copenhagen Spring 2024 Trend: Car Coats and Trenches
The best oversize coats were a fixture in Copenhagen street style this season; on the runways, designers prepared us for inter-season layering with a mix of updated trench coats and light jackets. Brands with a minimalist bent dialed up the proportions of classic khaki versions, scaling up their sleeves and hems at Mark Kenly Domino Tan and neatly cropping them with a relaxed fit at Lovechild 1979. Then there were the spring jackets that embraced the season with always-seasonally-appropriate pastel shades at Rolf Ekroth, the Garment, and Baum und Pferdgarten. When your outer layers look this good, you don't have to worry about covering up the rest of your outfit—a reminder the rain-soaked crowd wanted to hear during an unusually stormy week.
Copenhagen Spring 2024 Trend: Geometric Statement Jewelry
I wear the same two pairs of mini huggie hoops and a stack of dainty necklaces on a daily basis. As I packed my jewelry into my travel case before flying back to New York City, I wondered if spring 2024 would be the season my jewelry stack goes big. Collections throughout Copenhagen Fashion Week scaled up their accessories with exaggerated drop studs at Stine Goya, chunky brass hoops at Lovechild 1979, and silver earrings that could double for miniature abstract statues at Gestuz. Their oversize shapes played off the exaggerated proportions of loose suiting and oversize dress-and-skirt combinations—convincing me that bigger really is better.
Fashion Commerce Editor
Halie LeSavage is the fashion commerce editor at Harper's BAZAAR. Her style reporting covers everything from reviewing the best designer products to profiling emerging brands and designers. Previously, she was the founding retail writer at Morning Brew and a fashion associate at Glamour.