All the Most Useful iPhone Accessories We Saw in 2021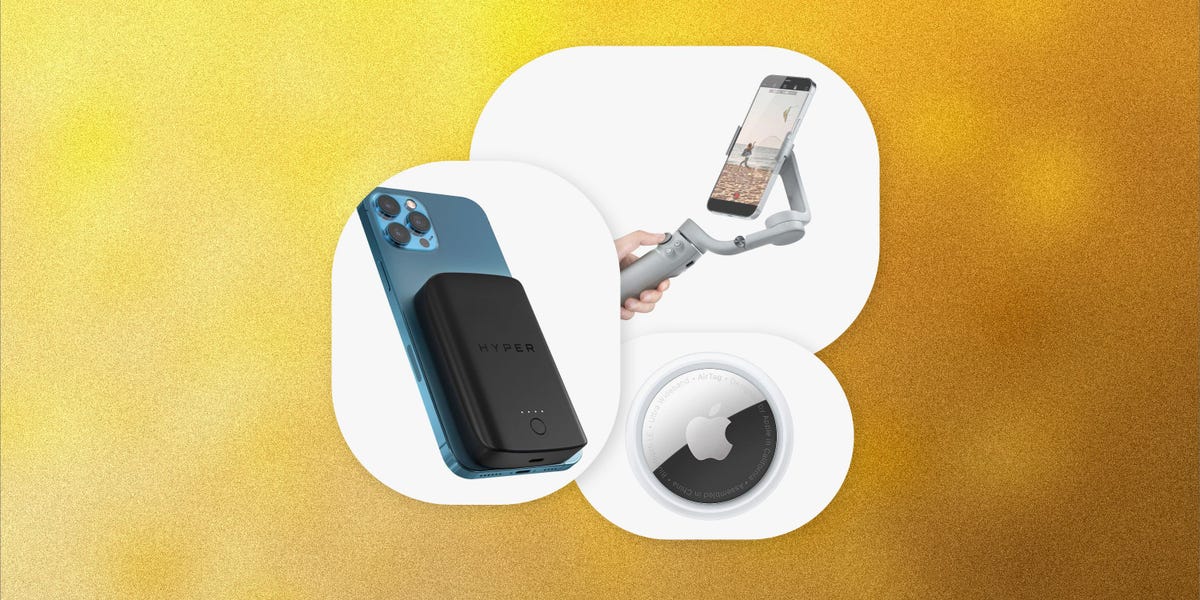 This story is part of our end-of-year series This Year in Gear rounding up the most notable releases of 2021. For more stories like this, click here.
It's been over a year since Apple introduced MagSafe with the iPhone 12, which truly shook up the iPhone accessory market. But now that we're on to the iPhone 13, which also supports MagSafe, a host of third-party accessory makers (as well as Apple) have had time to had to catch up and now there's a thriving ecosystem of iPhone accessories that either fully support MagSafe (and it's faster-charging capabilities) or at least work with its magnetic connection. Below, you'll find the best iPhone accessories of the year.
Nomad 30W USB-C Charger
Presented by Nomad
There's no denying the appeal of Apple's original USB-A charging cube, but that's not saying it couldn't do with a few improvements. Nomad stepped up to the challenge with its 30W USB-C Charger, packing six times as much charging power as the Apple OG without any real size increase. If anything, it's actually smaller than Apple's current 20W wall outlet charger, but with 30W of power — this means less time waiting for your phone to top up and more time out doing the things you actually want to do. But let's be honest: Fast charging is important, but it's only worth so much if the charger doesn't look great next to all your other devices. As intelligently designed as all the other tech by your desk or in your home, Nomad made sure to craft this charging cube with a sleek, monochromatic and minimalist aesthetic.
Price: $30
SHOP NOW
DJI OM 5
The DJI OM 5 is the company's newest smartphone gimbal and the successor to the OM 4. (FYI: "OM" is the new name for rebranded Osmo line.") The new model has basically the same foldable design, but it's slightly smaller and more compact. It has improved gimbal motors and an upgraded magnetic clamp (so it should be easier to attach and detach your smartphone). And, most significantly, the OM 5 has a telescoping selfie stick that's built right into the handle — to help make getting the perfect shot a little bit easier.
Price: $119
HyperJuice GaN 66W USB-C Charger
HyperJuice just announced what it's calling "the world's smallest 66-watt charger." It comes with three quick-charge charging ports, two 65-watt USB-C with PD (Power Deliver) and one 36-watt USB-A; and yes, the two USB-C ports are powerful enough to charge a laptop. It's available in two colors, white or black.
Price: $70
BUY NOW
OWC Thunderbolt 4 and USB-C Cable
OWC'S universal USB-C to USB-C cable is fully compatible with Thunderbolt 3, USB 4, USB 3 and, most importantly, Thunderbolt 4. It can basically do anything you need out of a USB-C cable. It can connect and support any USB-C device, whether it's a pair of headphones or a new laptop. It can deliver power up to 100 watts and transfer data up to 40Gb/s. And it can connect your laptop up to an 8K monitor.
Price: $40 $30
BUY NOW
Mophie Wireless Charging Stand+
Mophie's latest wireless charging tree is capable of charging up to three devices simultaneously, including your iPhone, AirPods Pro and Apple Watch.
Price: $80
SHOP NOW
Anker Magnetic Wireless Portable Charger
Anker announced a 5,000mAh portable power bank that magnetically connects to the back of an iPhone 12 or iPhone 13. It works like a MagSafe accessory, but it charges via USB-C and can only output 5-watts of power. If you want to add extra power to your iPhone without buying a battery case, this is what you want to buy.
Price: $54
Apple AirTags
In April, Apple finally announced its tiny item-tracking devices that work with its Find My network. AirTags are little circular gadgets that you can place on your keys, in your wallet or stick them on your devices. A single AirTag costs $29. A four-pack costs $99.
Price: $29/ea
SHOP NOW
HyperJuice Magnetic Wireless Battery Pack
This is a 5,000mAh portable battery that magnetically clips to the back of the iPhone 12 or iPhone 13. It charges via USB-C, however it does not support the super fast 15-watt wireless charging that MagSafe promises; it tops out at 7.5-watts of wireless charging speeds.
Price: $50
SHOP NOW
Belkin Magnetic Phone Mount with Face Tracking
This isn't a wireless charging stand. Belkin's new phone mount is designed to work with the latest iPhones, as it uses MagSafe to magnetically hold it in place. What makes it super unique is that uses face tracking (via Belkin's companion app) and a 360-degree rotating base so that your iPhone's camera can follow you as you walk around your room; it's feels similar to what the Amazon's new Echo Show 10 can do with its own rotating base. It seems like the ideal little gadget for people making videos on TikTok or YouTube, however, it won't work with certain video calling apps, such as FaceTime or Zoom.
Price: $65
SHOP NOW
Nomad MagSafe Mount
This is Nomad's latest accessory for people who have an iPhone 12 and Apple's MagSafe Charger. The MagSafe Mount is a weighted desktop accessory that holds Apple's MagSafe Charger in place so that when you pick up your iPhone 12, the charger doesn't come with it. Its stainless steel body weighs in at right around one pound.
Price: $60
SHOP NOW
Twelve South Forté
Twelve South announced a new wireless charging stand, the Forté, that fully supports MagSafe. This means that when connected to an iPhone 12, the Forté will be able to fast charge it at 15 watts, which is twice as fast as any wireless charger that doesn't support MagSafe. The other cool thing is that the magnetic puck can be rotated flat and thus turn into a wireless charger for your AirPods or AirPods Pro.
Price: $40 $35
SHOP NOW
Nomad Base Station Mini
The Base Station Mini looks almost identical to the company's existing wireless chargers — a combination of metal and leather — but it's only large enough to charge one wireless device at a time. It's powered by USB-C and as an integrated LED that lights up to let you know when it's charging. It costs $70, but you'll need a separate 20-watt USB-C wall adapter to get the most out of it because Nomad doesn't include one. (Nomad can bundle its own USB-C adapter for an extra $14.)
Price: $70
SHOP NOW
PopSockets PopGrip Slide Stretch
If you've been frustrated by the fact that PopSockets's grips haven't worked with the newest iPhones (because of their flat sides), well, you haven't been alone. Fortunately, the company has announced an updated version of its PopGrip Slide Stretch so that it fits the iPhone 12 and iPhone 13. They don't have any kind of adhesive and the new PopGrip Slide Stretch can easily slide down your iPhone 12 so you can wireless charge it via MagSafe.
There are several different designs that you can choose from and they all cost just $15.
Price: $15
SHOP NOW
Anker Nano II Wall Adapters
Released in 2018, Anker's Nano wall adapters were the first to feature GaN (gallium nitride), a material that is significantly more energy-efficient and space-efficient than silicon, which allowed the wall adapters to be smaller, lighter and still really powerful. Three years later, Anker has released a line of Nano II wall adapters featuring GaN II, a next-generation material that helps the wall adapters be even more energy efficient and better regulate its temperature. Basically, Anker's new wall adapters are still tiny, but even more powerful. The Anker Nano II lineup consists of three wall adapters: a 30-watt model ($30), a 45-watt model ($36) and a 65-watt model ($40). All three wall adapters have a single USB-C port and come with PowerIQ 3.0 technology, which helps manage/control the wattage.
Price: $30 — $40
Native Union Rise Dock
The Rise Dock isn't a MagSafe charging stand on its own. It's a stand that requires you to own Apple's MagSafe Charger, which Apple sells for $39, to work. That said, the weighed stand is able to house Apple's wireless charger in such a way that it elevates your iPhone 12 or iPhone 13, which is pretty cool. Plus, its dark finish will match perfectly with anybody who has any of Apple's space gray accessories.
Price: $50
Mophie Snap+ Accessories
Mophie, one of our favorite smartphone accessory makers, launched its "Snap" series of accessories, all of which is designed to magnetically clip to the back of your iPhone 12 or iPhone 13. The Snap series is made of two wireless chargers, two car mounts, two portable power banks (one that doubles as a wireless charging stand) and more.
Price: $20 — $70
SHOP NOW
Moft O Snap Phone Stand and Grip
This is a neat 2-1 MagSafe accessory that magnetically sticks to the back of your iPhone 12 or iPhone 13. It can work as a Pop-Socket-like grip as well as a stand that rotates 360-degrees, which makes it easy to view your iPhone in either landscape or portrait modes. It comes with a sticker so it can work with non-MagSafe iPhones, too. You can buy in four different colors: yellow, orange, black or blue.
Price: $20
SHOP NOW
Lenovo Smart Clock 2
Lenovo's second-generation Smart Clock sports the same 4-inch display as its predecessor and still comes integrated with Google Assistant. It does have a better speaker (that plays stereo) and, more significantly, a taller design that makes it compatible with a wireless charging pad. The wireless charging pad is sold separately, but you'll likely want to get it because it has a built-in USB port (so you charge another device) and it has a neat nightlight feature.
Price: $90
SHOP NOW
Kensington StudioCaddy
The StudioCaddy is neat little charging dock for your various Apple devices. It plugs into the wall for power, and has an integrated charging stand for your iPhone and a wireless charging pad for your AirPods Pro (or AirPods, should they support wireless charging). There are USB-C and USB-A ports on the side of the device to simultaneously charge your MacBook and iPad. And, thanks to its modular design, you can add vertical stands to hold said MacBook and iPad without taking up much desk space.
Price: $180 $150
Apple MagSafe Battery Pack
The MagSafe Battery Pack is Apple's first portable battery that works with MagSafe — it magnetically sticks to the back of your iPhone 12 or iPhone 13 and gives it extra power throughout the day. It costs $99, which is twice as expensive as third-party alternatives, but it comes with a few distinct advantages. It charges via Lightning, so you can charge it with the same cable as your iPhone. When plugged into the wall, it works like a true MagSafe wireless charger and can charge an iPhone 12/13 at 15-watts, which is twice as fast as a non-MagSafe wireless charger. And finally, you can easily tell the how much juice it has left (which is a common problem for portable power banks) because, when connected to your iPhone 12, its battery life can be seen from the Lock Screen and from the Batteries widget.
Price: $99
SHOP NOW
Mophie 3-in-1 Wireless Stand for MagSafe Charger
This isn't Mophie's first magnetic wireless charger designed for the iPhone 12. But it is the first one that fully supports MagSafe, meaning it can fast charge your iPhone 12 at its full 15-watts, which is twice as fast as non-MagSafe wireless chargers. On top of that, this 3-in-1 charger has dedicated spots to charge your AirPods Pro (or AirPods with a wireless charging case) and your Apple Watch. It's only available in white.
Price: $90
BUY NOW
Popsockets Popmount Car for MagSafe
Popsockets released a new MagSafe-compatible car mount that sticks to your car's air vent and magnetically holds your iPhone 12 or iPhone 13 (either horizontally or vertically) in place while you drive. The kicker is that it's designed to work with the company's existing PopGrip for MagSafe ($30) and solves the problem of having to take off your Popsockets grip every time you want to go somewhere in the car and use your iPhone for navigation.
Price: $30
LEARN MORE
This content is created and maintained by a third party, and imported onto this page to help users provide their email addresses. You may be able to find more information about this and similar content at piano.io