Blandstanding is in as Milan fashion week embraces the practical | Milan fashion week
Blandstanding is the new grandstanding at Milan fashion week.
At Gucci, the departure of designer Alessandro Michele, ringmaster of modern maximalism, brought jeans, blazers and practical shoulder bags back to the catwalk. With new hire Sabato de Sarno yet to arrive from his current post at Valentino, this collection was a group effort by the team left behind by Michele, and the theatrical flourishes of their former boss and mentor were still evident in the Smartie-coloured fake furs and microscopic diamanté bikini tops.
But there were strong hints of a swerve toward the sensible in double-breasted trouser suits and classic beige trenchcoats. Handbags were sensibly sized rather than bauble-tiny; loafers were made sturdy with creeper soles. The venue, which was tricked out as an office foyer – with models arriving and leaving via banks of lifts – located these looks firmly in the real world. An army of high-profile Gucci ambassadors including musicians A$AP Rocky and Florence Welch, and actors Dakota Johnson and Julia Garner, were drafted in to pack the office reception-style banquettes, as a visual reminder that Gucci remains a force to be reckoned with in fashion. The message of this placeholder show: stay tuned.
A shift from fancy dress to clothes for real life has been the vibe shift of the week. Prada showed a knockout collection of "everyday" skirts, shirts and trousers; Max Mara's models were sensibly wrapped up in cosy layers designed "to celebrate the dignity of the women who wear our clothes", the respective designers said.
The front row is rocked by this unexpected absence of shock factor. High drama had become fashion's signature look. In the past year, deliberately provocative catwalk antics – a dress sprayed on to the body from a can at Coperni, fake lion heads that scandalised animal lovers at Schiaparelli – have taken over from putting supermodels in hot pants or celebrities in the front row as the surest route to making headlines.
Milan's most powerful designers have introduced a radical new trend for ordinary clothes. Giorgio Armani outlined his manifesto for "clothes that bring out the person, not the character" at Emporio Armani, where skirts with a practical just-above-the-knee hemline were worn with soft blazers.
Prada presented the chicest vision of blandstanding: crisp shirting, simply cut skirts and low-heeled shoes. Miuccia Prada and co-designer Raf Simons declared they had tired of "storytelling" on the catwalk and had decided to "bring beauty into everyday pieces" instead. In the past, Simons said, "I would say: 'I want to do a Twin Peaks collection,' or Miuccia would say: 'I want to do a Frankenstein collection.' That's not how we are working right now … It doesn't sound right any more."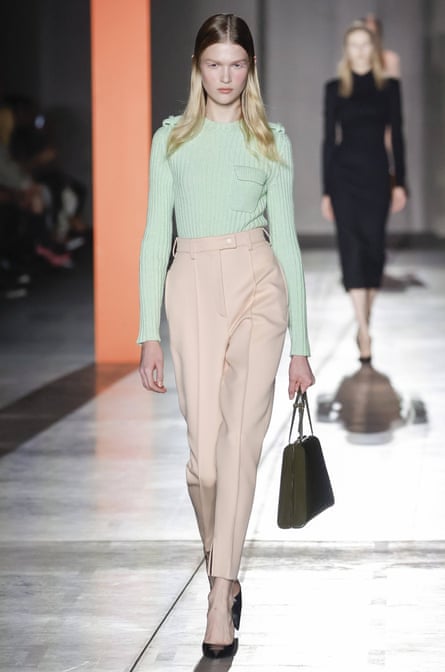 Fendi's creative director, Kim Jones, took as his muse the real-life working wardrobe of one of the design team, 36-year-old Delfina Delettrez Fendi. The opening look of the latest Fendi collection, a sky blue cardigan worn with a chocolate brown skirt, was based directly on the colours she wore for her first day in the studio. "I was looking at the sophisticated Fendi woman in quite a simple way," Jones said.
Backstage after his Max Mara show, designer Ian Griffiths enthused about "clothes that show the beauty of the wearer without degrading them in any way, and designed with respect for the comfort and ease of the wearer". Pushing back against overcomplicated styling, Griffiths showed simple knit dresses in muted tones of rose or toffee, with matching coats. "I don't want a woman to be thinking about whether she is young enough or thin enough to wear something, or have to worry if she's falling out of it."
Milan, traditionally the most high-octane of the fashion cities, has emerged as an unlikely hotbed of resistance to the centrifugal forces of virality that have driven fashion towards extremes. The hottest trends of recent months have been "indie sleaze", "mermaidcore" and "naked dresses". But the most influential look of last season's Milan catwalks was a pair of loose blue jeans and a blue checked shirt worn open over a white dress, as worn by Kate Moss on the catwalk at Bottega Veneta.
The "dad shirt", as the trend has been dubbed, has been adopted as a trophy piece by the front row. The unusually low-key mood is reflected in the defection of Versace, which is sitting out this Milan fashion week in favour of showing its next collection in Los Angeles next month, shortly before the Academy Awards.