Runway ready: Washington U students design party clothes for youth with disabilities | Education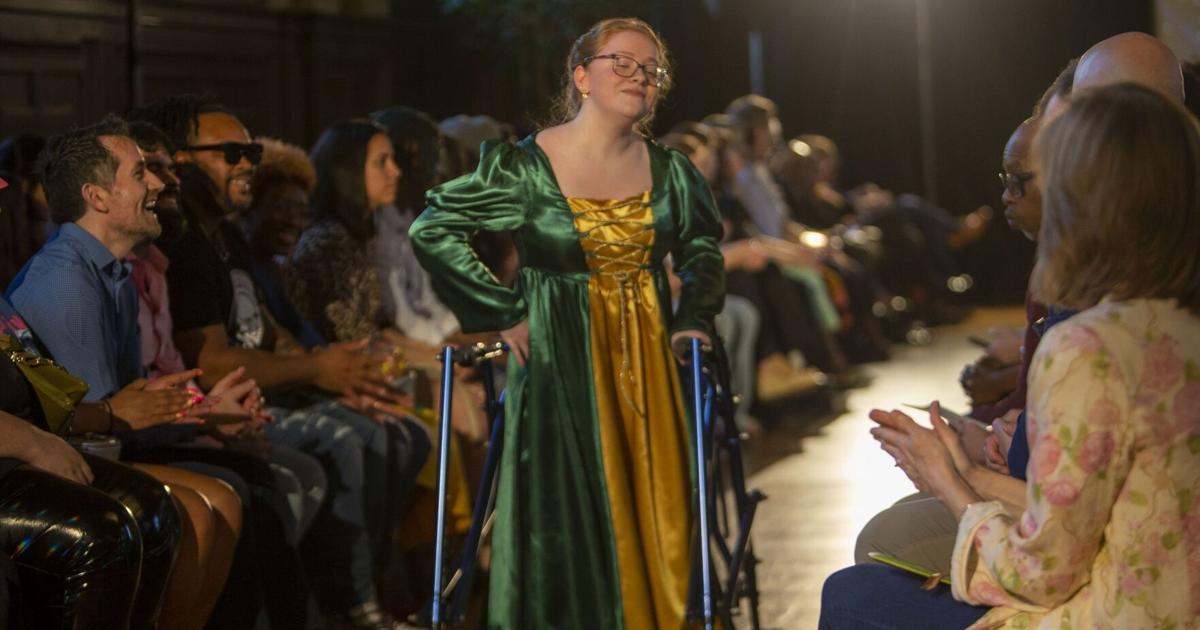 ST. LOUIS — Shelei Pan has spent her free time during the pandemic designing and sewing fashions for children — first masks, now formalwear.
On Saturday, the sophomore pre-med student at Washington University launched Made to Model at a long-running fashion show on campus. The project pairs college design students and young people with disabilities to create clothes tailormade for their personalities and physical needs.
"It's about gaining appreciation for what functional fashion can do," Pan said.
Pan said she had been wanting to design adaptive prom and homecoming dresses since high school at Ladue Horton Watkins, where she was inspired by a friend who uses a walker.
Dresses off the rack were either too juvenile or too large for her mobility needs, Pan said.
"Everyone wants to find the perfect dress. It was upsetting that my friend wasn't able to find that in what's available commercially," she said.
Last year, Pan pitched her idea for Made to Model to associate professor Mary Ruppert-Stroescu, head of the fashion design program in the Sam Fox School of Design and Visual Arts. They decided to open the school's 93rd annual Fashion Design Show with the young models in their special-occasion dresses and suits.
The 17 models ages 8 to 20 were recommended for the show through the Special School District of St. Louis County, Variety Children's Charity of St. Louis and Kids Enjoy Exercise Now, or KEEN.
"We are looking to find ways to enable people with disabilities to have the same fashion options that everyone who doesn't have disabilities has … improving the lives of people through clothing (and) broadening what fashion can be and who it can be for," Ruppert-Stroescu said. "It's something made just for them that they feel good in and they look good in."
The project started last summer with Zoom meetings between the college students and their young models. The models were sent packets of fabrics and color swatches and discussed their preferences and needs.
Some models needed magnets instead of button closures, others needed special cuts to accommodate wheelchairs or other assistive devices. Certain fabrics known to be scratchy or heavy were eliminated for models with sensory concerns. An occupational therapy student brought noise-canceling headphones to the show for anyone who felt overwhelmed by the backstage bustle.
Andrew Tollefson's suit jacket opened from the back so he didn't have to get out of the wheelchair to put it on.
"I do not have full range of motion in any of my joints, so putting on nice clothes is very difficult," said Tollefson, a graduate of Francis Howell North High School. "I wanted to participate because it is hard to find nice clothes to wear when you use a wheelchair. I feel very handsome."
The models kept the custom designs, with plans to wear them to prom and summer weddings.
There were some hiccups at the show, with long, crowded waits for the runway and stray zippers that models weren't able to manage. The process will be tweaked in future years, organizers said.
"One of the major goals was to make their dream dresses and garments, bring their ideas to life," Pan said. "There will always be more children and teens out there who would like to take part, so we'll continue doing this year after year."
Photos: Made To Model showcases adaptive clothing for students with disabilities