Some of Our Favorite Clothing Released in 2021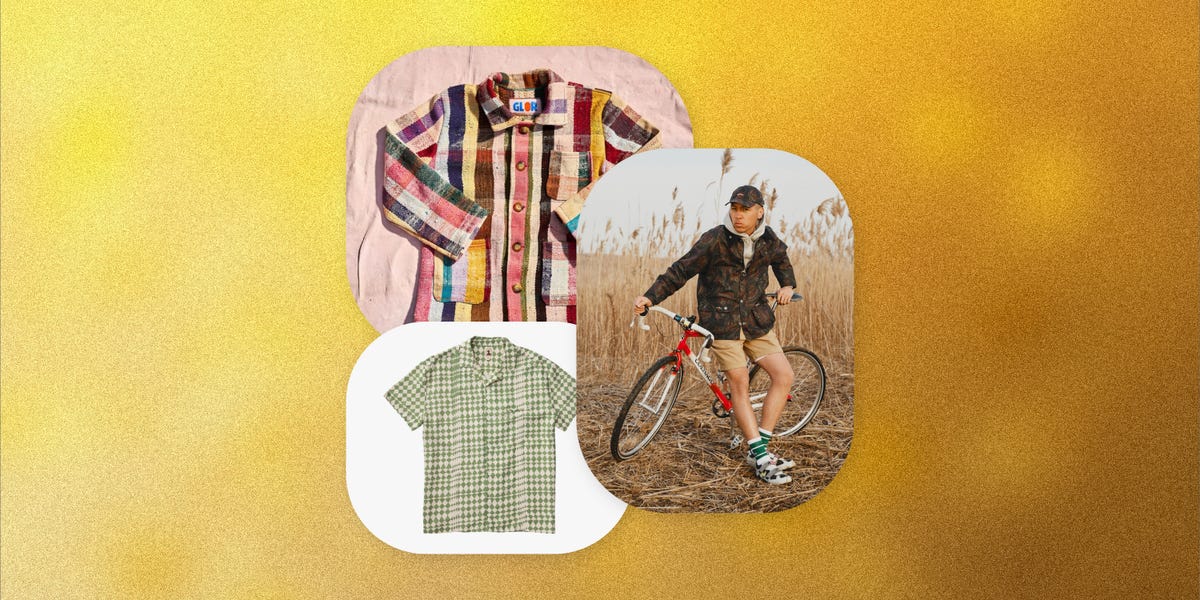 This story is part of our end-of-year series This Year in Gear, rounding up the most notable releases of 2021.
The pandemic has shaped the clothing industry in the past year and a half, influencing buying habits, trends and new releases. Comfortable styles — sweatpants, hoodies and sneakers — boomed, as expected, but the isolation also gave brands renewed focus on producing unique, meaningful products. There are countless releases worth calling out, but these are a few of our favorites.
Glor Chore Coats
These one-of-a-kind chore coats are made in from vintage Moroccan blankets. Cut and sewn in Northern California, they feature three patch pockets and Italian horn buttons. Many of the first run of coats are already sold out, but sign up for Glor's newsletter to receive updates on the next drop.
Price: $550
Todd Snyder Denim
New York designer Todd Snyder launched a new approach to denim broken into three tiers: Stretch, Selvedge and Small Batch. Whether you want something that comfortable for everyday wear or something that's limited-edition, this new collection features classic styles in slim and straight cuts, and washes that span that indigo spectrum.
Price: $158-$268
SHOP NOW
Noah x Barbour Waxed Bedale Jacket
Barbour's iconic Bedale has a fresh coat of paint for NYC-based brand Noah. While it looks fresh, the coat still features a water-resistant waxed cotton shell, a corduroy collar, a heavy-duty zipper and two bellow front pockets.
Price: $770 Sold Out
SHOP NOW
Bristol Studio Triple Hem Shorts
The hem has been a hot topic recently. Some are convinced that the shorter the better, while our collective adoration for nostalgic outfits — looking at you, vintage NBA uniforms — has drawn some closer to capri-like shorts than ever. However, Bristol Studio does something we haven't seen yet: three hems on one pair of shorts! Each layer is a different color but all come with a woven logo tag. If nothing else, the triple hem affords texture to an otherwise plain pair of mesh bottoms.
Price: $118
Dockers Waves for Water Trucker Jacket
Made from a blend of cotton and hemp, this trucker jacket is produced with more sustainable practices like Docker's WaterLess finishing. A collab with Waves for Water founder Jon Rose, this collection also features a button-up shirt, work pants and a t-shirt.
Price: $88
SHOP NOW
Dandy Del Mar The Tonga Linen Shirt
In the summer, it's totally fine to look laid-back. In fact, the season's all about leisure: sitting under the sun, sipping a drink as it sets and setting foot in the water to cool off. In our opinion, your clothes should tell others how you're feeling — in this case, "leisurely." Dandy Del Mar's Tonga Linen shirt does just that. With pearl buttons, an Alhambra Check pattern, a spread collar, front pleats and a somewhat sun-faded finish, it's the right option for dinner or a day by the pool.
Price: $119
Aimé Leon Dore Fleece Liner Jacket
After a stoking the hype for a few weeks, Aimé Leon Dore's FW21 collection is finally here. Filled with crewneck sweatshirts, New Era collabs, knit sweaters, and socks, the drop boasts plenty of outerwear, too — obviously. This Fleece Liner Jacket caught my eye. It's more structured than most other entries to the categories and the pockets are a nice touch.
Price: TBD (Out 8/27 at 11 AM EST)
Awake NY Mohair Ombre Striped Cardigan
Magenta. Baby pink. Fluffy ombre yarn. Tonal buttons. What more could you need from Awake NY's Mohair Cardigan? Solid maroon marks the v-neck, front button stack and cuffs and a contrasting blue tag's been stitched inside.
Price: $240
Stüssy x Tekla Pyjama Shirt + Shorts
Streetwear brand Stüssy tapped Copenhagen fabrics brand Tekla for a line of sleep- and beachwear. These pyjamas, in a color called Cactus, are unisex and flowing. The top's boxier and bigger, while the bottoms are short and comfortable.
Price: $270
John Elliott Polar Fleece Parka
A John Elliott fleece jacket with a hood? Hell yeah. But do not wash it — for two reasons: it sheds microplastics and the brand says dry clean only.
Price: $898
Fillipa K Athens Coat
With a body made from merino wool and cashmere, Fillipa K's Athens Coat makes light work of wintery weather, while being extremely gentle on your body.
Price: $1,180
Wythe Washed Pearl Snap Flannel Shirt
We love Wythe. The indie label's making J.Crew-meets-Western look really, really cool. And that descriptor doesn't even really do the pieces justice. Peep them for yourself, you're sure to find something you like.
Price: $178
SHOP NOW
Gramicci x Nanga Boa Down Pullover Pants
Made from recycled nylon, Gramicci and Nanga's collaborative Down Pullover Pant promises extreme warmth in the face of wintery weather. The collab collection also features a matching jacket, should you want the full set.
Price: TBD
TOYS McCOY Lot 001Z Riders Denim
Japanese reproductions brand TOYS McCOY dropped its own ode to Lee's Rider Jeans, the brand's most popular style. (Think: what the 501s are to Levi's, but to Lee.) They're true to the original, all the way through the back patch. But they're all TOYS: the patch says TOYS McCOY and so do the inside tags.
Price: $265
Jil Sander x Arc'teryx Shell Jacket
As if technical outerwear wasn't expensive enough, Jil Sander and Arc'teryx debuted high(er)-end editions featuring the latter's materials and the former's luxury influence.
This content is created and maintained by a third party, and imported onto this page to help users provide their email addresses. You may be able to find more information about this and similar content at piano.io