The Pioneer Woman Accessories – Where to Buy Ree Drummond's Shoes, Jewelry, and Handbags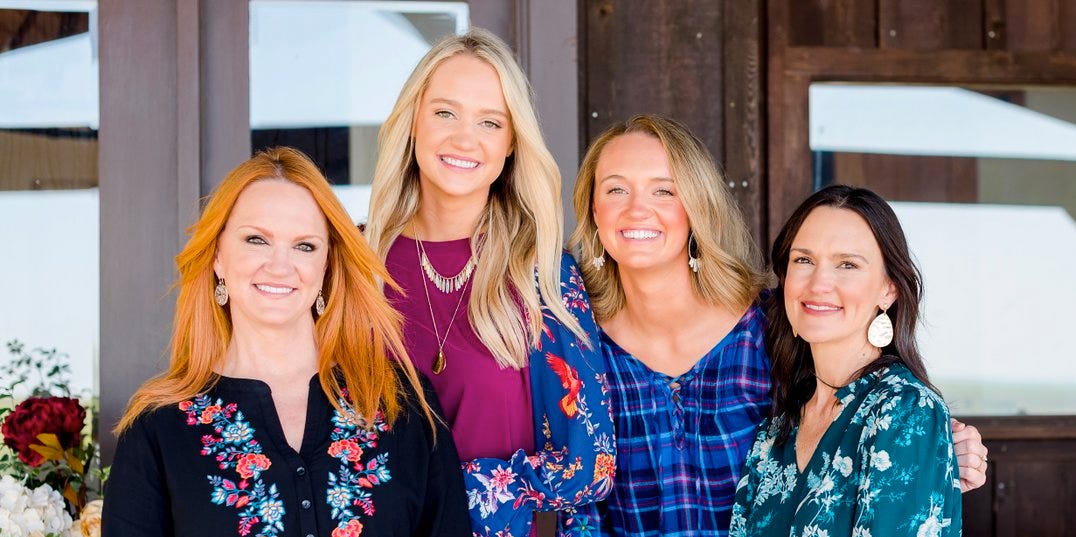 If you're a fan of The Pioneer Woman, you know Ree Drummond's signature style: a pretty printed blouse and a flattering pair of jeans. She puts her heart and soul into creating her clothing line at Walmart, bringing her best looks right to your closet. "I so enjoy the creative process of designing my apparel collections," she explains. And it shows! Her new fall clothing is her best yet.
But you know Ree never stops at just a simple top and pants. It's the accessories that complete her look. Whether it's bold statement earrings or cute cowboy boots, she always needs something a little extra to add to her outfit. And now you can, too, because—drum roll please—The Pioneer Woman is finally launching a line of accessories!
And boy, does she offer it all. "The collection is inspired by the go-to, everyday items in my closet: classic (but cute and comfortable!) cowboy boots, knee-high riding boots, boho-chic jewelry pieces, and super functional (but pretty) handbags that you can fill up with all the stuff you need to take with you!" she notes. These pieces will easily freshen up your existing wardrobe, whether you're staying casual or getting gussied up for a night out.
Oh and did we mention she's offering outwear now, too? Stay warm and stylish no matter where you go. Browse through all the new product categories available for purchase—then outfit yourself head to toe. "I can't wait to see everyone accessorizing with the new collection!" she proclaims. And honestly, we can't wait either!
Handbags
Hello, handy handbags! This printed faux suede tote is roomy enough for all the essentials and has a zip top closure to keep them secure. Plus, it comes in two colors! It might be impossible to choose just one. (We totally support you getting both, by the way.) 😉
And if a crossbody is more your style, definitely check out the three color options of the mid-sized shoulder bag. The strap is adjustable and removable if you want to use the top handle instead. The delicate laser cut floral design add just the right amount of detail to go from day to night.
Boots and Shoes
No frontier look is complete without a proper pair of riding boots, so we're honestly not surprised Ree wanted the right pair (or two!) for her own collection. Available in black and cognac, these high boots have an easy in-and-out zip closure and go with practically everything. You can pair them jeans, leggings, or tights and a dress.
Actually, you can say the same thing about her new flats, too! They are comfy, casual, and stylish at the same time, making them ideal for everyday wear. You just have to slip them on! Prefer sneakers? Yup, she's got those as well―in a signature Ree floral print, naturally. Walk around in style, no matter which pair you choose.
Jewelry
Seriously, we are blown away by all the gorgeous jewelry options! Ree offers boho-chic bracelets, earrings, necklaces, and rings. Thankfully, they are all super affordable, and a lot of them come in stacks and packs for layers of fun. Take the fringe and beaded multi-layer statement necklace: one clasp, two necklaces, tons of outfit ideas. Pair them with hammered gold drop earrings, and save the other set for something special.
And speaking of special, one of our favorite pieces is the yellow crystal cuff. Ree says, "This cuff quite literally goes with everything, from jeans to dresses!" And she's right, of course, but then so do her ring stacks that offer just a bit of bling, as does her turquoise pendant necklace.
We told you―so many options! Take a gander and just go for it. You'll take a shine to a lot of this collection, we promise.
Outerwear
When the weather gets a little chillier, it's always a bit of a disappointment to have to put a jacket on over your cute outfit. That is, unless, your outerwear is just as cute! Ree's quilted barn jacket solves that conundrum, with a hit of her signature colorful florals as trim on an otherwise very versatile, everyday jacket. Trade the chill for a hot look from head to toe.
And the puffer vest could complete an outfit all by itself. Pop it over a long sleeve button-down and voila! Instant new look. Oh, and it's reversible, too. One side is a gorgeous print and the other is a furry, solid sherpa. You'll wear it all season long. (Well, we could say that about all these options, so it's up to you to choose your favorite!)
AnnMarie Mattila is the Commerce Editor for The Pioneer Woman, covering products ranging from home, fashion, beauty, and more. 
This content is imported from OpenWeb. You may be able to find the same content in another format, or you may be able to find more information, at their web site.